Do-it-Yourself Dog Washing
We have closed our self-wash room until further notice due to health concerns related to Covid-19.
Tired of bending over a bathtub to wash your dog? Self-service bathing doesn't just save your back, it saves you time, cleanup, laundry, and stress.
When you bathe your dog with Kibbles & Cuts, we provide:
A secure space – your dog won't jump out of the tub or run away
Walk-in wash tub with ramp – no need to lift
Your choice of shampoos and conditioners
Grooming tools
Hand sprayer
Dryer
Towels
CURRENTLY AVAILABLE IN Sandy
Appointments for the self-service wash are accepted, but not required.
Call (801) 942-3647 to check availability.

Dog Laundry
You take away a spotless dog, and our staff tend to the mess and laundry.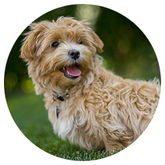 Dog Wash & Grooming
No scheduled time needed. The last bath is 30-minutes prior to closing time. We are open today until 7:00 PM.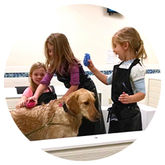 Self-Service Dog Wash
Our self-service dog wash permits you to stand in comfort at the dog washing station, and we provide all the things needed to give your dog a professional wash.
WHAT Sandy CUSTOMERS ARE SAYING
We love our customers from Sandy areas around Whisperwood, Wildflower, Granite Crest, Altawood, Willowcreek, Willowcreek Estates, Creek Rd Terrace, Belmont Heights, Southland Acres, American Villa, White City, Silver Sage, Granite, and Cottonwood Heights
Come visit our pet supply store in Sandy, UT specializing in quality food, treats, and supplies for cats and dogs.